Flipkart Has Started Fake Or Not Contest With 5 Questions In Video & They Are Giving Away Assured Free ₹1000 Gift card or ₹50 Gift Card Or Free Flipkart Supercoins.
Assured Rewards Of Flipkart Fake Or Not –
1. 1000 gift vouchers – 100 winners
2. ₹50 gift vouchers – 3000 winners
3. Free 25 Supercoins
4. Free 20 Supercoins
5. Free 10 Supercoins
How To Play Flipkart Fake Or Not –
First Of All Just Login Into Your Flipkart App Account
Now Click Video Section Of Flipkart | You Can See Video Option From Footer Menu Beside Supercoin Button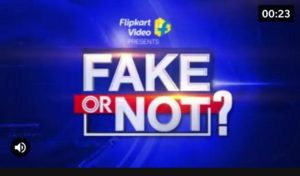 There You Will See Flipkart Fake Or Not Contest Video
Click On Start Video & You Need To Watch All 12 Minutes Video To Give Correct Answers.
We Have Already Added Correct Answers Below.
Flipkart Fake Or Not Answers – 20th August 2020
Fake
Fake
Not Fake
Not Fake
Not Fake
If You Have Given A Wrong Answer, Then You Can Retake It & Correct Your Answer Even After Checking Rewards.
——————————————————————————————–